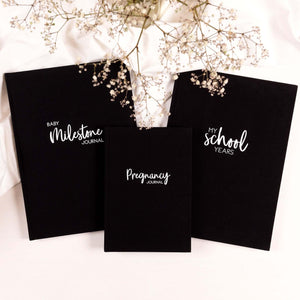 Complete Journal Bundle
Regular price
Sale price
$115.00
Tax included.
---
 Pay now with Afterpay -  4 fortnightly payments of $42.49
The ultimate in Belle & Grace Journal goodness, the Complete Journal Set is all you will ever need to capture every moment, from when you first find out you're expecting, right up to their 18th birthday. 
All three journals are bound and leather covered to last the distance, making the perfect place to record every memory.
Our Journal Bundle includes:
 Pregnancy Milestone Journal,
 Baby Milestone Journal, and
 School Years Journal
All journals are made from high quality linen with a debossed title.
PREGNANCY MILESTONE JOURNAL
The Belle and Grace Boutique Pregnancy Journal is perfect for recording every emotion and milestone you experience on your pregnancy journey. Beautifully designed to prompt Mums and Dads-to-be to make notes, you will delighted to look back on what you have written in your Journal in years to come. 
Timeless and stylish, the Pregnancy Journal is bound and covered in your choice of either white or black linen with a minimalist design for the cover. With plenty of room to store precious ultrasound pictures and notes to your baby, you may choose to present your Pregnancy Journal to your child as a keepsake of your special time.
Use your Pregnancy Journal to write letters to your baby telling them how you feel before you meet for the very first time. Record your cravings, your hopes, and fears, appointments, plans and details of your growing bump.
Our Pregnancy Journals include pages to:
Record pregnancy details, such as when you found out
Keep ultrasound pictures safe
Keep track of your pregnancy, week by week
Write notes to your baby
Log appointments
Details of baby shower and gifts
Birthing plan 
Baby name ideas
BABY MILESTONE JOURNAL
Every baby is special and each milestone your little one reaches is amazing. From their first tooth to those first tottering steps, Belle and Grace Boutique's Baby Milestone Journal is the perfect place to record every detail so you never forget.
What's inside our Baby Milestone Journals:
Pages to record your pregnancy 
Family tree to complete
Introducing your little one
Pages to record milestones and all baby's firsts
Baby's likes, dislikes
Funny moments and special occasions
Birthdays 1-5 years
Blanks pages to add your own photographs
SCHOOL YEARS JOURNAL
When your little one starts school, it's the beginning of a new adventure. It's a time for new experiences, making new friends, learning new skills, and finding out what they are good at. You want to capture it all - including a photo of how wonderful they look in their school uniform at the start of each school year! Belle and Grace Boutique's My School Years Journal will ensure you do just that. 
We have provided plenty of space to enable you to record all the important details for every school year from pre-school to 12. Complete the pages of My School Years Journal and add photos and you will create a wonderful, unique keepsake of your child's school life. 
My School Years Journal is the perfect place to document how young children develop from school year to school year and record their achievements and educational milestones. Fill out the prompts with information such as the name of your child's teacher, friend's names, excursions and favourite subject for each year, and your Journal will be bursting with wonderful memories to look back on in years to come. 
The minimalist design of My School Years Journal will ensure it remains elegantly timeless as it is passed down the generations. From kindergarten to pre-primary and on to primary and secondary school, make sure you don't miss a moment.
Whats included:
Daycare to kindergarten reflections
Annual reflections for years 1-12
Lots of room for photos and artwork
Annual record of achievements, awards and other milestones